The Charitables are...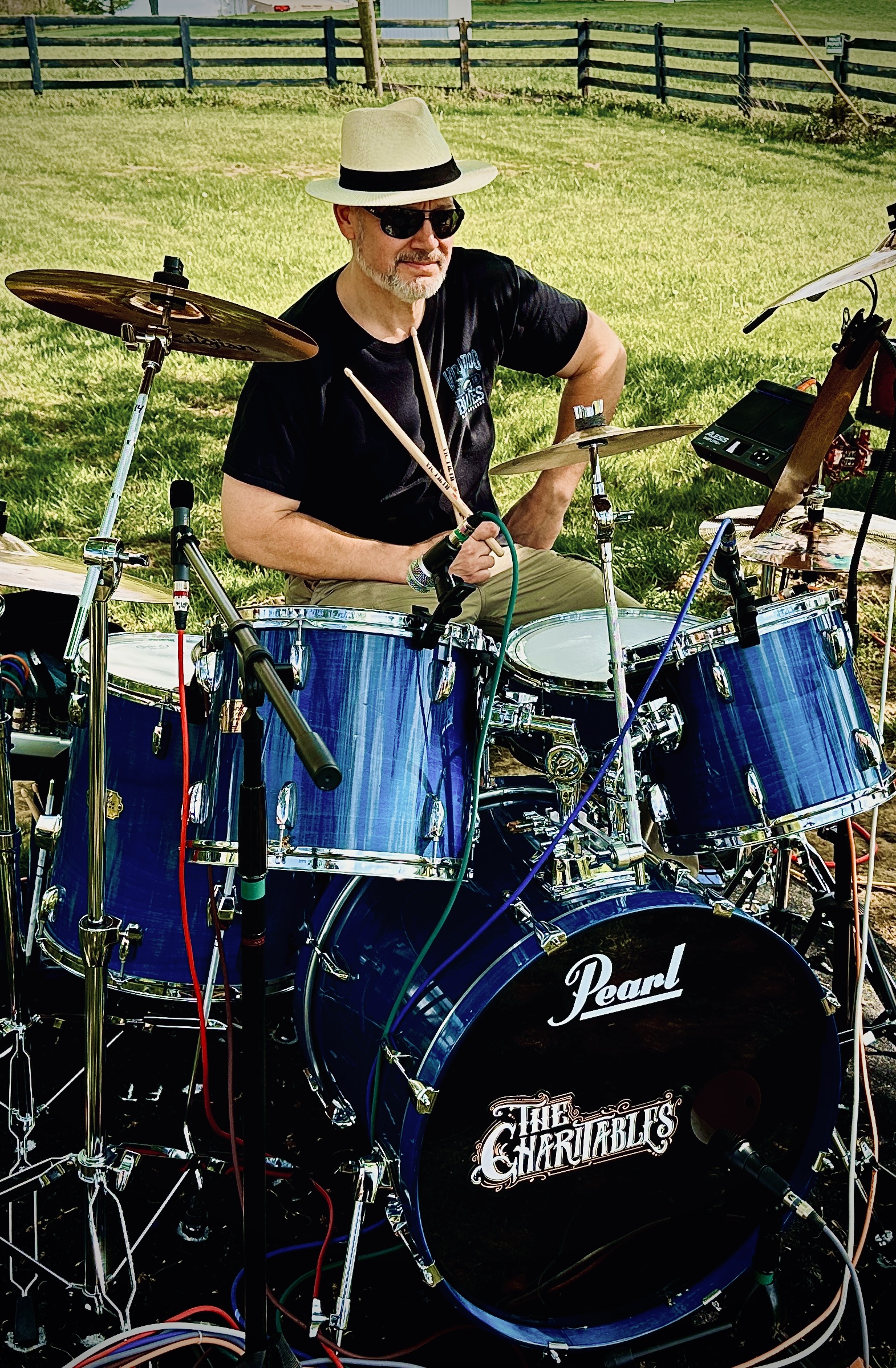 Mark "Styx" Sippel - Drums, Percussion, Lead Vocals, Backing Vocals
Mark was classically trained on piano from an early age and even dabbled in learning a little Ragtime before finding his true love for percussion through Mike, a family friend. Thanks to Mike's influence (and a generous donation of his old Pearl drum set) Mark was well on his way to playing drums on and off over a span of 30 years. In order to continue with his passion for music all the while balancing all that life throws at one over the years, he acquired an electronic drum set from PINTECH (one of the early US based commercial electronic drum companies) so that he could continue to play without disturbing the neighbors (and young family).
Mark also enjoys playing bass guitar from time to time and has performed with several groups over the years before finally settling with a family group in Northern Kentucky called Generations. From there he started The Charitables Band in 2020. Mark has focused his skills on playing everything from classic rock from as far back as the 50's to early metal along with a little contemporary rock, blues and country music.
The Charitables Band has allowed him to collaborate with many talented artists as well as to continue in his dedication to helping others through charitable works all the while enjoying his love of making music. When Mark isn't playing music or working a full-time job, he also loves spending time with his wife, kids, friends, and serving other charitable causes. Mark's other interests include flying and traveling.
Mark's equipment includes: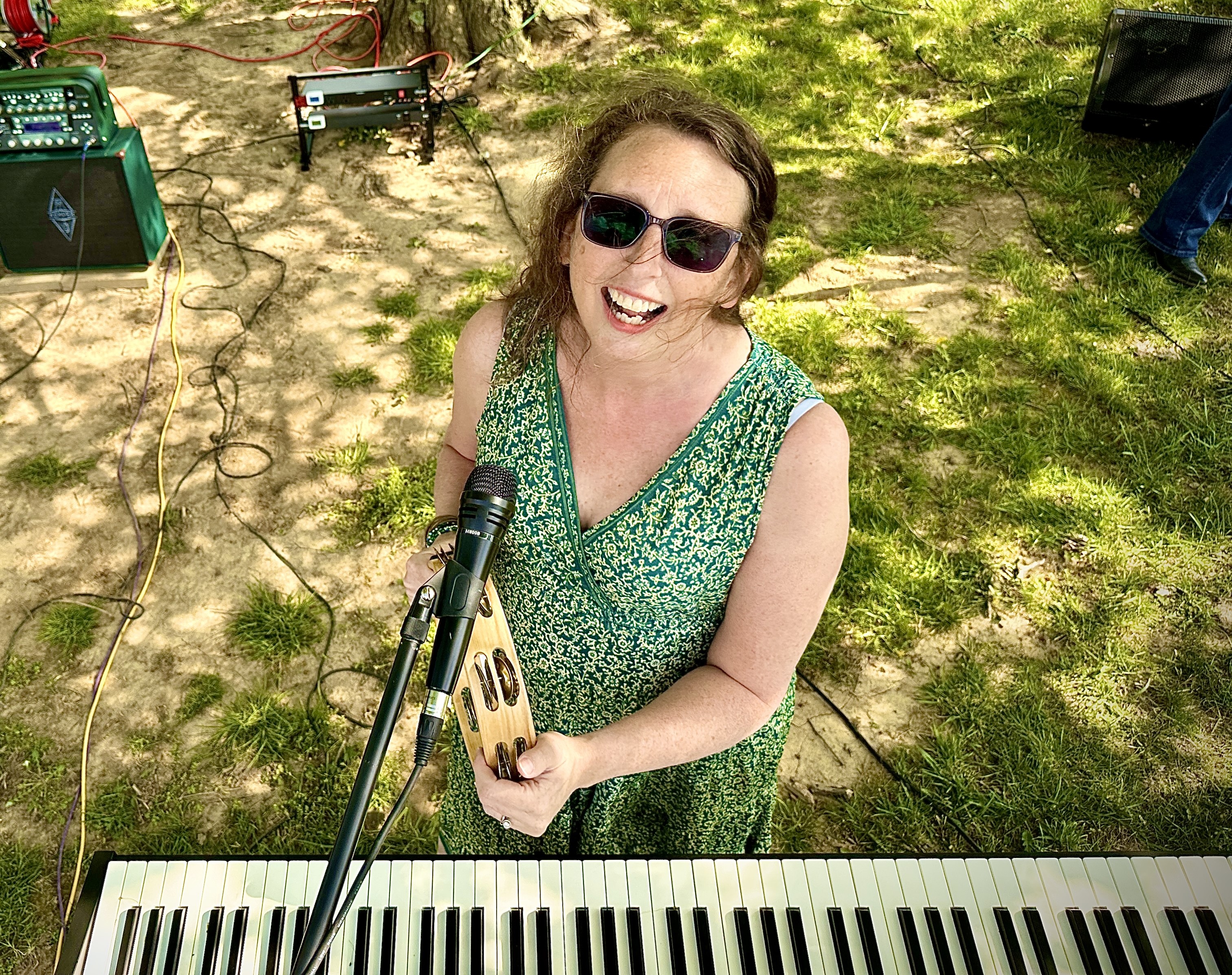 Mary Wheeler - Lead Vocals, Backing Vocals, Keys
Mary's love of music started at a very early age singing hymns in church before she could read. Participating in church & school choirs lead to a lifelong love of vocal music & musical theater. Classically trained at the piano beginning at the age of 8, Mary went on to perform as an accomplished accompanist for her high school show choir, regional honor choirs and received 1st place in the Kiwanis Club of Portsmouth (Ohio) Chopin Competition at the age of 17. Mary was also an accomplished band musician playing saxophone in marching, concert, and jazz/pep bands as well as competing in OMEA competitions in both saxophone and piano, receiving top ratings.
Her love of music continued throughout college as she explored performing with friends on stage around the University of Cincinnati as she pursued her degree in Architecture. Her musical influences are many including classical, 80's MTV, classic rock, 90's grunge & college rock, and Broadway with favorites like the Beatles, Ella Fitzgerald, Led Zeppelin, the Eagles, Pearl Jam, Soundgarden, Prince, Billy Joel, Tina Turner, Blondie and Rachmaninoff to name a few.
After a break from music to raise her children, Mary returned by way of the Cincinnati School of Rock through private vocal lessons and with the adult performance program. Mary's SoR show credits include Metal, 70's Rock, Lollapalooza, Americana, and Arena Rock before she "graduated" to work with The Charitables Band. When Mary isn't singing you might find her serving others as a Stephen Minister, leader of her church womens ministry, running her design and renovation business, taking care of and enjoying her family & friends, or one of her other numerous hobbies and interests.
Mary's Equipment Includes:
Roland RD 88 Stage Piano
Audio-Technica Professional Audio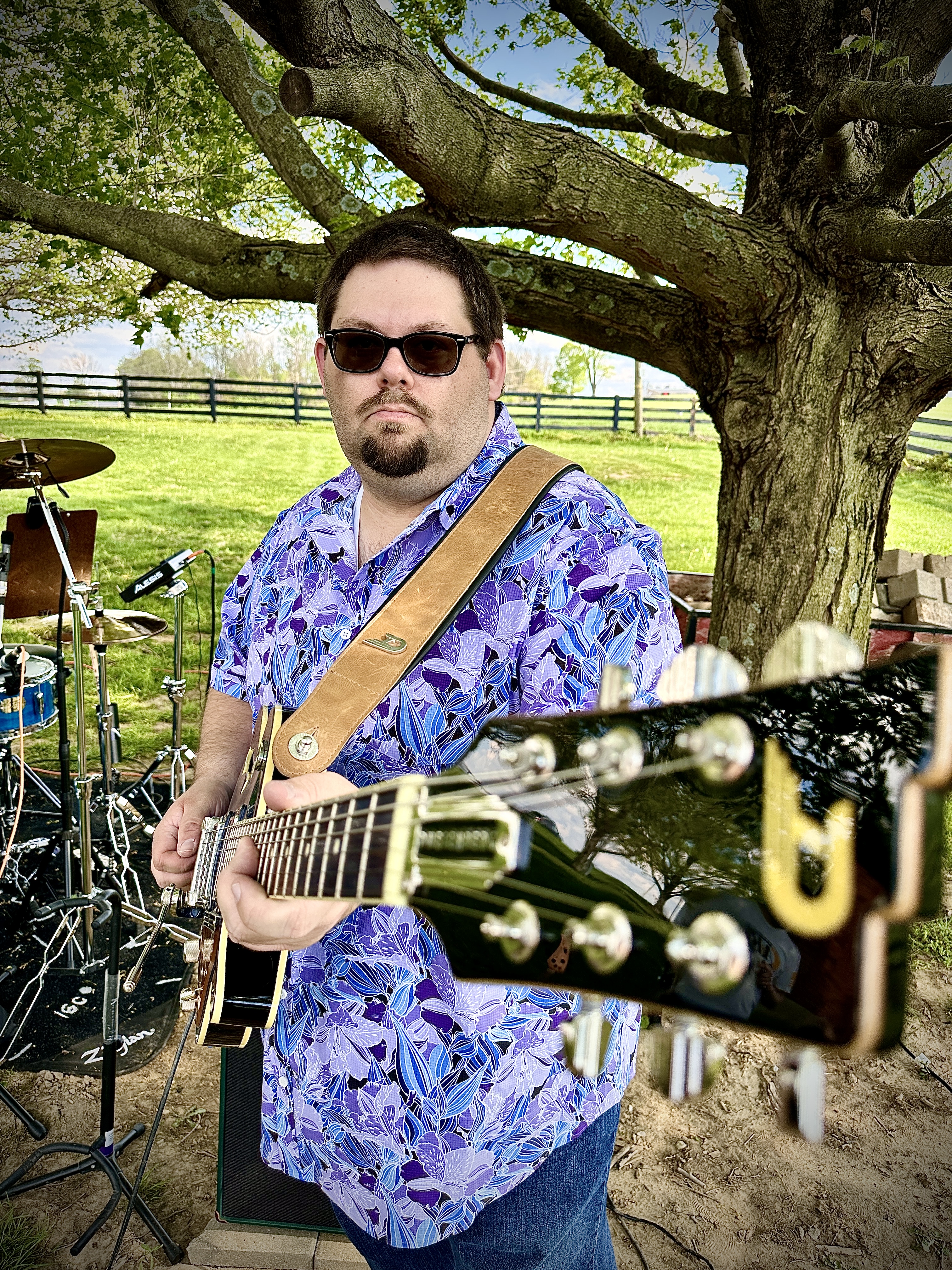 Raymond Wright II - Rhythm Guitar, Lead Guitar, Lead Vocals, Backing Vocals
Son of Northern Kentucky Guitar/Vocalist Legend Raymond Wright Sr., Raymond is the band's multi-instrumentalist. Raymond pours his soul into everything from song arrangements to coordinating/running the lighting/sound systems, and is responsible for primarily guitars and vocals during performances.
Being raised on Classic Rock n Roll (especially listening to The Beatles), Raymond has developed a unique style for performing hit cover songs and in writing unique new age Rock/Pop music. His influences include everything from the Classic Rock n Roll sounds of The Beatles/Tom Petty and the Heartbreakers to 90's alternative rock/pop bands such as Matchbox Twenty. Having been involved in several bands throughout his lifetime, The Charitables has provided a unique pathway to share the music that he loves while supporting great causes. Raymond is always developing new ways to share the music that he and his band mates love to play with The Charitables Fans!
Raymond's Equipment Includes:
Duesenberg Guitars
Fender Guitars
Kemper Amplification
Vox Amplification
Ernie Ball Strings
Whirlwind Professional Audio
Sennheiser Professional Audio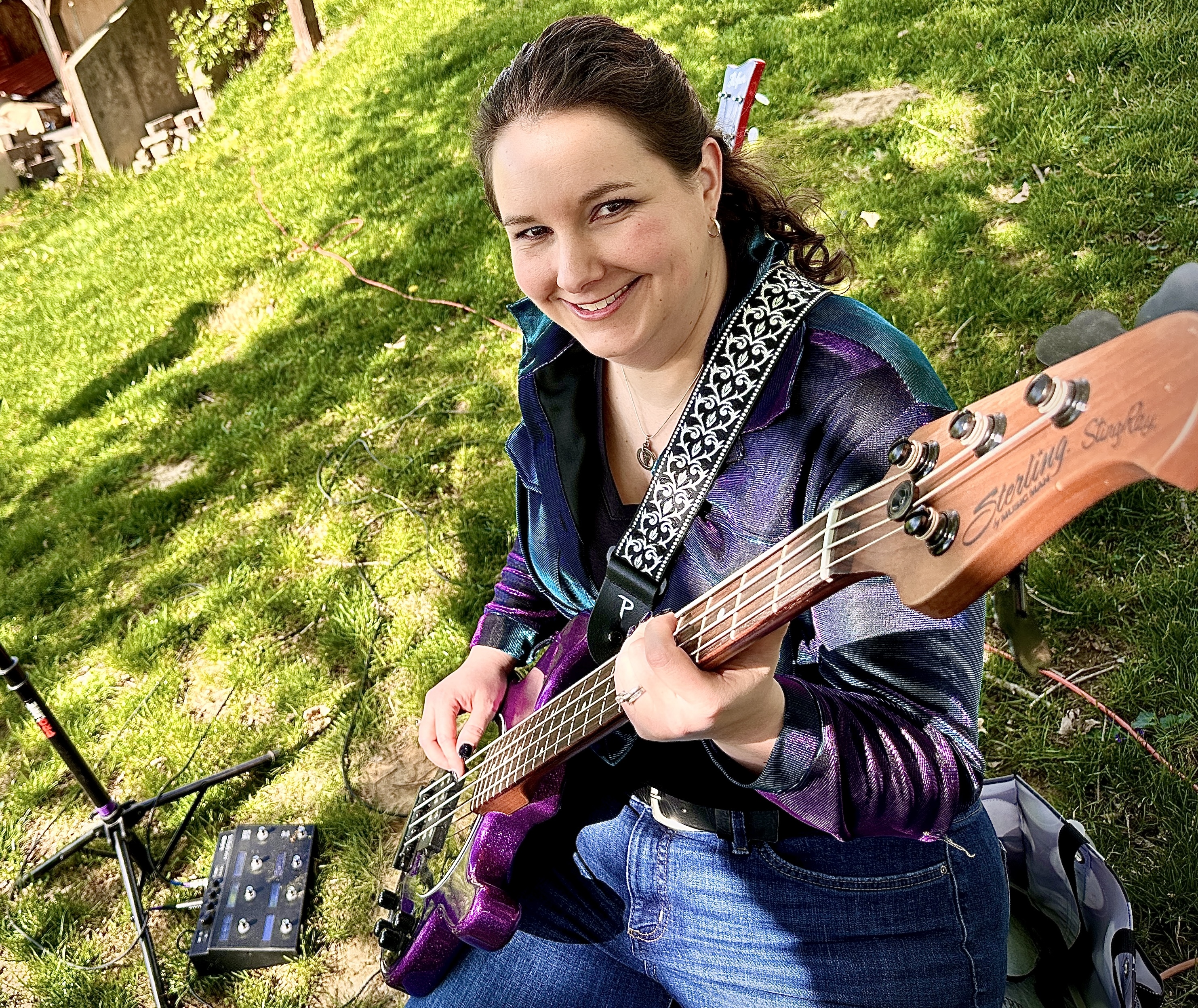 Tonya Wright - Bass Guitar
A full-time Nurse with a steady groove, Tonya is the bass player for the group and part of the rhythmic backbone of The Charitables performances. Tonya started out at an early age playing the dulcimer (an Appalachian bluegrass instrument), including performing on the B&B Riverboats in Cincinnati, as well as other various musical events throughout her childhood. Tonya grew up with multiple genre influences including bluegrass, country, pop, and rock and roll, each contributing to her unique musical performance style. Top influences include Garth Brooks, Paul McCartney, Matchbox Twenty, and more!
Tonya's Equipment Includes:
Hofner Bass Guitars
Music Man Bass Guitars
Ashdown Amplification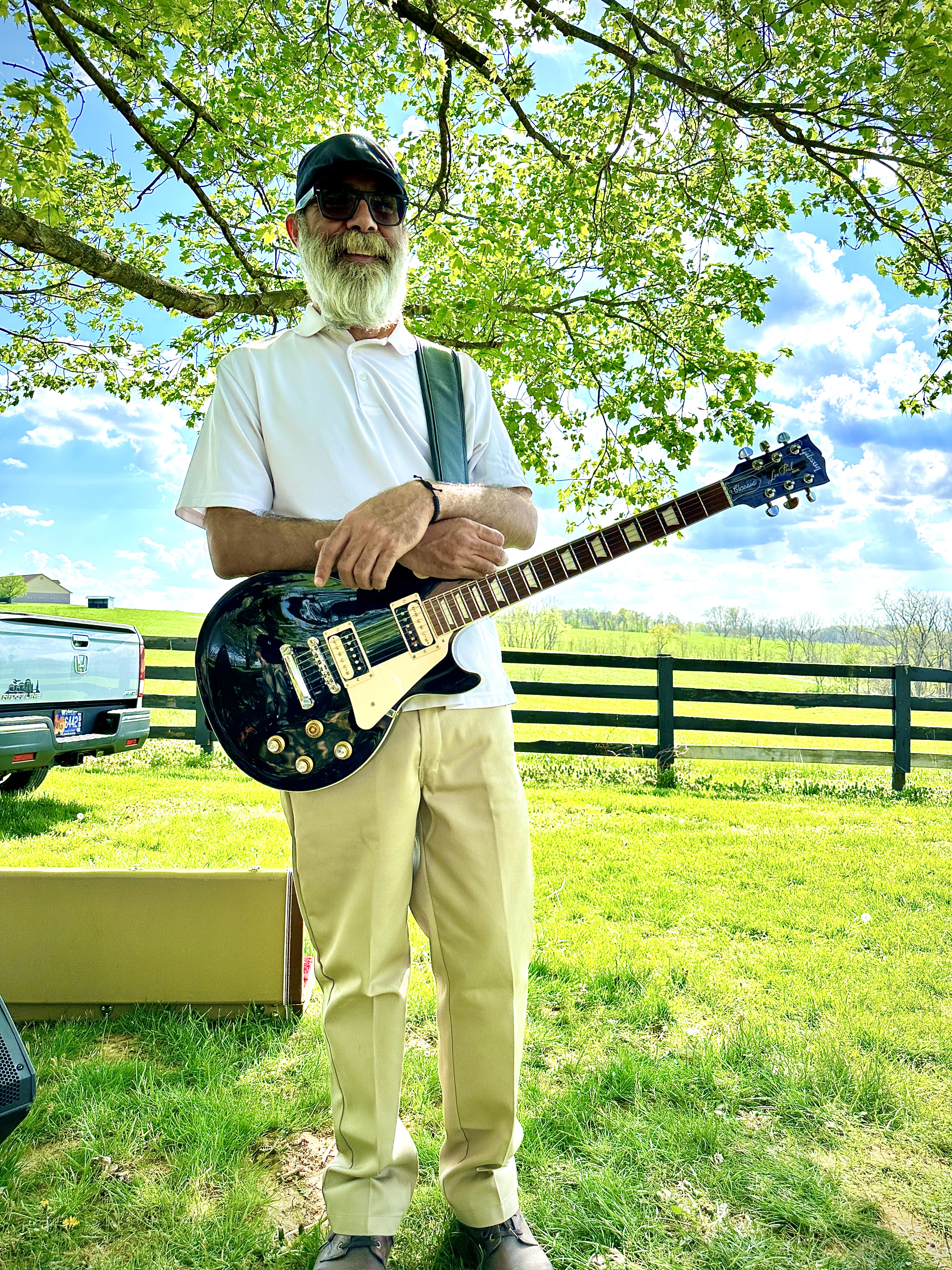 Billy Roldán Larsen - Lead Guitar, Rhythm Guitar
Living in Cincinnati, born and raised in Puerto Rico, Billy has been involved in music from an early age. Coming from one of Puerto Rico's most known folkloric music families, Billy started playing piano and organ as a child through his early 20's and performed in numerous cover bands in both Puerto Rico and the United States.
During his college years, Billy started learning to play the guitar. Life, four kids, and a very demanding career kept him away from music for a short time, but, in an effort to get back into the music scene, he shifted into the Music business where his Production Company (Larsen Music Productions and Events) managed multiple bands. One of these groups won many accolades in the Latin Rock world including ASCAP Writers of the Year, multiple Grammy nominations, and won a Grammy for best Latin Rock Alternative Album in 2007.
Billy recently picked his guitar playing back up and has been a devoted guitarist since 2019. Billy truly is a One of One and has the talent to create sounds with virtually any instrument he touches bringing his highly creative instincts to the guitar, piano, and even the dulicmer.
Billy enjoys spending time with his own family of musicians including two kids who are participating in UC Youth Conservatory programs. He dreams they can soon join him as his musical adventure continues...
Billy's Equipment Includes:
Gibson Guitars
Fender Guitars
Line 6 Helix Floor